14 Day Quick Self-Clearing System
14-Day Mini-Course for Busy People
to Clear Your Core Wounds and
Connect to Your Soul
Did you know what you normally think you are, is actually just a collection of all your memories, conclusions, and beliefs that come from all the roles and conditioning you've experienced?
These comprise your personality, which is an overlay masking the true reality of your soul. And yet these overlays or identities are so compelling that you convince yourself they are who you are and you lose touch with your deeper True Self.
Your soul is your true core essence and the secret to a fulfilled life. That's because your soul's very nature is all the virtuous qualities you could ever desire.
Your soul is love, abundance, joyfulness, and peace. By feeling connected with your soul it is possible to bring these healing qualities into your everyday experience, while at the same time initiating a process that dissolves lower negative energies.
What to Do About the Forces Blocking You…
The Quick Self-Clearing System is your catalyst for awakening to the highest, most noble part of your self, your soul. Your soul is your internal reference point with which you should always be in touch.
When you awaken to your soul you will discover new abilities developing within you. You'll sense a deeper awareness, and find your intuitive powers growing.
Situations and people won't upset you so much and you'll  automatically become more open to peace, love, patience, kindness, generosity, and other virtues.
The 14-Day Quick Self-Clearing System
You will be guided to release the hidden barriers that prevent you from fully connecting to your core essence as you integrate your soul into your everyday life.
During this program you will be introduced to a daily practice of listening to and merging with your soul. The goal is to make the Soul real and alive so you can build a true, personal relationship with it.
Each day (for 14 days) you will receive an email, a training lesson, and be led through a meditative audio program specifically designed to eliminate obstacles and nurture a deepening soul connection. Each guided meditation is only 6 or 7 minutes long, yet goes right to the core of the issues with the Soul Clearing process that frees you.
Praise for Jonathan's Work…
Michael Bernard Beckwith ,

author of "Spiritual Liberation"

Illumined by direct experience, Jonathan Parker takes us on a deep exploration of the soul, demonstrating a remarkable convergence with the profound spiritual states of consciousness reported across centuries and cultures…
Larry Dossey, MD ,

author of "Healing Words"

Deep within each individual is a source of wisdom that can help us lead a fulfilled, joyful life.  Jonathan Parker's The Soul Solution is a practical guide to accessing this glorious dimension in our desire to lead a meaningful existence.
Norman Shealy, M.D., Ph.D., ,

Professor of Energy Medicine

...All of us need to cultivate our connection with our soul. The Soul Solution offers us a superb path to integrate the wisdom of our soul with our individual life path, allowing stressful issues to be, as Jonathan Parker writes, 'dissolved by the Soul'.
Marc Allen,

author of "The Greatest Secret of All"

The Soul Solution is a beautiful, heartfelt, clear, wonderful guide to resolving our problems and challenges in life. Jonathan Parker shows us that the solution is simple, something everyone can do. I highly recommend this book to everyone on the entire planet.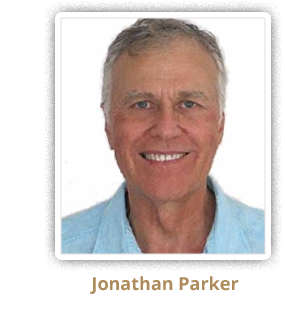 Meet Jonathan Parker Ph.D.
Dr. Jonathan Parker has been a groundbreaking thought leader for more than 35 years. He is considered one of the country's foremost experts on subtle-energies and the effects on a person's health, relationships, finances, and spirituality. His landmark book, The Soul Solution, has been transformational in the lives of many thousands.
Jonathan has been ahead of his time with many innovative applications of accelerated learning and personal transformation techniques.
All orders are processed on a secure server.
30 Day Money Back Guarantee